We are the strategic marketing company obsessed with achieving the goal.
We create strategic projects that bring objective results to our clients.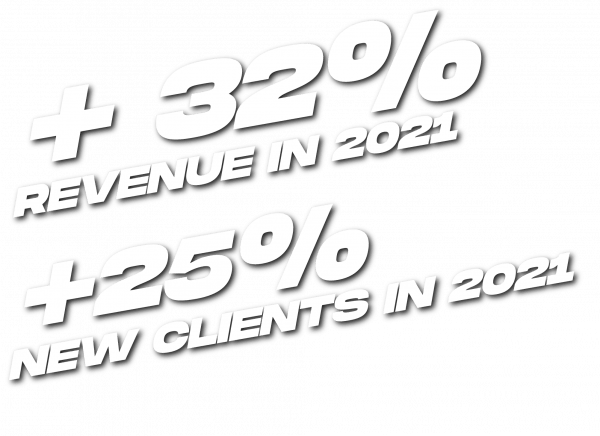 Le Piantagioni del Caffè is among the leading premium artisanal coffee roasters in Italy and the world. Specialising in "specialty" and single-estate coffees, they asked us to revamp the company strategy to increase market penetration in Italy and internationally.
In light of the impressive results achieved, the roaster invited us to join them in creating a new company focused on developing retail outlets specialising in premium coffee. Birrificio della Granda – among the top 8 breweries in Italy – contacted us to develop a strategy that would lead to overseas expansion and a doubling of the 3,500hl of beer produced in 2019. By 2021, Granda has now expanded to Spain and France and – despite Covid – production has increased to 8,000hl and continues to grow. The results achieved have seen Birrificio della Granda become one of the most in-vogue craft breweries of the moment. Warsteiner – a historic independent German brewery that has been in the Kramer family for nine generations – tasked us with handling relations with the Italian media for the launch of a number of innovative projects and supporting the company in its return to the trade fair circuit.
The results achieved led to the relationship being extended and to significant new developments including a project entirely dedicated to potential B2B clients and the launch of the Warsteiner Lovers platform. Mitilla is a mussel produced exclusively in Pellestrina, in region-specific "Grade A" farms that do not require depuration. Thanks to our work on branding, public relations, press office activities and strategic positioning, Mitilla has become a brand leader in a commodity-based sector and a regular staple of high-end kitchens such as Massimo Bottura's Osteria Francescana. Camplus, Italy's leading student housing operator, tasked us with completely revamping the food & beverage offering and brand for residents of its campuses. We developed an original concept, placing the students and the interests of "Generation Z" at the heart of the strategy and all action taken, and achieving impressive results that have led to three establishments being opened in 2021 alone, with others on the way. And so, the world's first "food affinity space" was born, where students and residents can come together not only to eat and drink, but also to share values and spend time together Diemme Academy represents the pinnacle of the repositioning strategy requested of us by Caffè Diemme. The goal was to achieve brand elevation by creating an umbrella brand to draw together the various proprietary brands and founding an excellence training centre. We oversaw the executive planning, marketing strategy and promotion. Diemme Academy has become Europe's top training centre in the café industry. We curated the image and brand for Panini Durini – Milan's renowned retail concept – right through to the opening of the 20th retail outlet in Milan and subsequent sale of the company to a NewCo of investors. Our brief was to increase the brand value and the link between brand and customer, with a view to enhancing the exit strategy. We achieved this goal by incorporating corporate responsibility measures into the strategy and organising events with influencers and opinion leaders.
To us, marketing means: method, analysis, strategy, implementation, results, verification.
Creativity happens within the bounds set by this scientific approach.
Our method, honed through years of research, allows us to handle projects with extreme attention to aesthetic details, aimed at achieving significant results for our clients, as demonstrated by our case studies.
.
We always work proactively with management and the marketing department to achieve significant results: we drive things forward and lead the way, rather than waiting to be prompted. Your needs and goals are at the centre of what we do: we map out the path to achieving them and implement it through to the end. Our obsession with the end goal means we feel responsible for achieving it and continue to develop until we do!
Companies without an in-house marketing department can outsource that role to us, with numerous benefits: specific expertise in the food & beverage field, influences from various sectors, absolutely top professionals in every area, a wide network and significant relationships with the press and opinion leaders.
We define ourselves as a boutique because our clients work directly with the senior members of the IDEA Food & Beverage team on tailor-made projects. Care, expertise, and dedication to the project are always absolute.
We bring energy and a mentality of constructive criticism to the company: we are not "yes men" who will simply go along with others' suggestions. We identify limitations and opportunities, drawing your attention to areas for improvement, and create a strategic marketing culture that streamlines the company journey and creates lasting value. We contribute vision, we map out a path, which in turn motivates your whole team.
We don't go through the motions for the sake of it – our work is exclusively centred on strategic thinking.
We are a "Growth Agency", focused on achievement.
Our clients are so satisfied with our working model, and we believe so strongly in our method and approach, that we establish new brands and projects in partnership with our clients.
Our method
(hover over or tap the balloons)
1°
Hypothesis
Having learned your needs, we develop a hypothesis based on the specific situation of your company and our knowledge of the markets in which you wish to grow.
2°
Analysis
We perform a market analysis using a scientific method to investigate the competitive scenario: demand, supply, competition, trends. This offers a snapshot of the positioning of the company, allowing growth scenarios and development opportunities to begin to emerge.
3°
Strategic positioning
The analysis identifies the factors that can help the company stand out in their target markets and the elements of interest and significance to customers and potential customers. We draw together all these elements to determine the strategic positioning of the project: how the brand should position itself in the minds of its customers and potential customers.
4°
Strategy
Drawing on the strategic positioning analysis, we develop a marketing strategy. This involves identifying how to develop, or create (if required), colour schemes, design, brand, tone of voice, customer relationships and the various touch points.
5°
Budgeting
We work with you to analyse the company business plan and set a marketing budget that is sustainable for the company and capable of producing significant results within the set timeframe.
6°
Marketing plan
We develop the marketing plan, thinking up and selecting the most effective actions to achieve the goal. We set a timeframe and budget for each individual action in order to create a detailed and accurate investment and results verification plan.
7°
Operational marketing
We put everything planned and outlined in the marketing plan into action, directly handling the implementation, coordination and management of external suppliers or the company's internal marketing department. We can handle all marketing department tasks.
8°
Verification
From day one, we put verification systems and checkpoints in place to enable us to ensure compliance with timeframes and budgets. During the implementation stage, we verify the impact of the strategy by listening to the market and are always ready to tweak the project as required.
9°
Result
We update you on the progress of the project through monthly reporting. We keep in touch with you daily, to discuss and explore new ideas and new opportunities. Our method achieves tangible and significant results for the company.
Italia
Lussemburgo
Inghilterra
Giappone
Russia
Svizzera
Messico
Stati Uniti
Italia
Lussemburgo
Inghilterra
Giappone
Russia
Svizzera
Messico
Stati Uniti
Italia
Lussemburgo
Inghilterra
Giappone
Russia
Svizzera
Messico
Stati Uniti
Italia
Lussemburgo
Inghilterra
Giappone
Russia
Svizzera
Messico
Stati Uniti
Italia
Lussemburgo
Inghilterra
Giappone
Russia
Svizzera
Messico
Stati Uniti
Italia
Lussemburgo
Inghilterra
Giappone
Russia
Svizzera
Messico
Stati Uniti
Italia
Lussemburgo
Inghilterra
Giappone
Russia
Svizzera
Messico
Stati Uniti
Italia
Lussemburgo
Inghilterra
Giappone
Russia
Svizzera
Messico
Stati Uniti